DC DRIVE MODULES / DC MOTORS MANUFACTURERS
CII IS A MANUFACTURERS OF HEAVY DUTY DC MOTORS AND DC DRIVE MODULE. ALSO MANUFACTURING DIMMER BASED DC MOTOR CONTROL PANEL.
Our quality centric approaches help us to provide best range of DC Drive 0.25HP to 75 HP. With the use of best electrical switchgears, we design highly advanced and superlative products for several applications. We test them on several parameters and safely supply these products to various commercial clients. Our products are highly reliable and are available at economical price range.
DC motors are a common type of electric motor used in a variety of applications, ranging from small toys to heavy machinery. Understanding the basics of DC motors is important for selecting, installing, and maintaining them. In this article, we will explore some of the key features and benefits of DC motors, as well as provide tips on how to optimize your website's content for SEO related to DC motors.
Benefits of DC Motors
DC motors offer several benefits that make them a popular choice for many applications. One of the main advantages of DC motors is their ability to provide high torque at low speeds, making them ideal for use in heavy machinery, such as cranes and elevators. DC motors are also highly efficient, converting a high percentage of electrical energy into mechanical energy, which can help to reduce energy costs.
Another advantage of DC motors is their relatively simple construction and operation. Unlike AC motors, which require complex control systems to vary their speed and torque, DC motors can be easily controlled using a simple voltage regulator. This makes them a cost-effective and reliable choice for many applications.
A DC drive module is an electronic device that is used to control the speed and torque of a DC motor. It is a type of motor drive that provides a controlled voltage or current to the DC motor.
DC drive modules typically consist of a power supply, a controller, and a power amplifier. The power supply provides the voltage or current required by the controller, which then converts the signal into a form that can be amplified by the power amplifier. The power amplifier then provides the necessary power to the DC motor.
DC drive modules are used in a wide range of applications, including industrial, commercial, and automotive applications. They can be used to control the speed of conveyor belts, pumps, fans, and other types of machinery that require precise speed control.
DC drive modules are available in various types, including analog, digital, and microprocessor-based controllers. They can also be customized to meet the specific requirements of the application, including the type of motor, the speed range, and the level of control required.
Overall, DC drive modules provide a reliable and efficient way to control the speed and torque of DC motors, which can help improve productivity, reduce energy consumption, and extend the life of the motor and connected equipment.
FAQ's (Frequently Asked Question About Industrial DC Motors)
Q. What are industrial DC motors used for?
Industrial DC motors are used in a wide range of applications, including conveyor systems, pumps, compressors, industrial machinery, and more.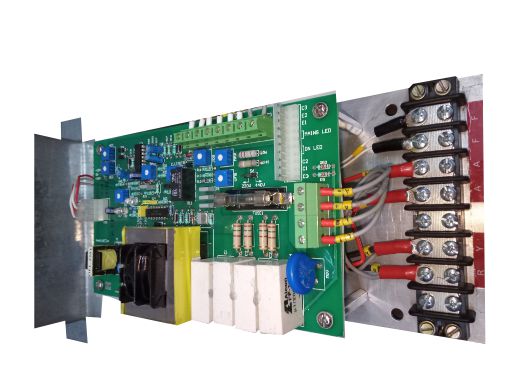 FEATURES :
- DC Drives from 0.25 HP to 75 HP
- Application with Dimmer State/SCR
- Remote Operation/Local Control
- Speed/Amp./Rpm Display at Panel
- Reliable Drive at Competitive Price

Controls Instruments India ~ Your Reliable Partner.